The fashion industry has been swept up in the wave of artificial intelligence innovations. In recent times, companies, retailers, and enthusiasts have eagerly embraced AI technology to enhance the way we shop and dress. This trend is rapidly evolving. According to McKinsey & Co., generative AI holds the potential to contribute a staggering $150 billion to $275 billion USD to the apparel, fashion, and luxury sectors within the next three to five years.
Fashion brands are leveraging generative text and image AI tools to offer highly personalized customer experiences. These experiences range from tailored product recommendations to interactive live chat sessions, assisting individuals in styling themselves effectively. However, this rapid integration of AI into the fashion industry has raised several important questions.
For instance, major brands like Levi's have announced plans to use AI-powered models to diversify their e-commerce visuals. This move has sparked concerns about the future of traditional modeling methods. Additionally, the emergence of a new AI-powered fashion magazine called Copy has stirred discussions about the role of creatives in the fashion world. Meanwhile, consumers are expressing skepticism about the use of their data, particularly in light of recent data breaches experienced by prominent AI platforms such as ChatGPT, created by the renowned California-based company OpenAI. These developments have triggered important conversations about the ethical implications and potential risks associated with the rapid integration of AI in the fashion industry.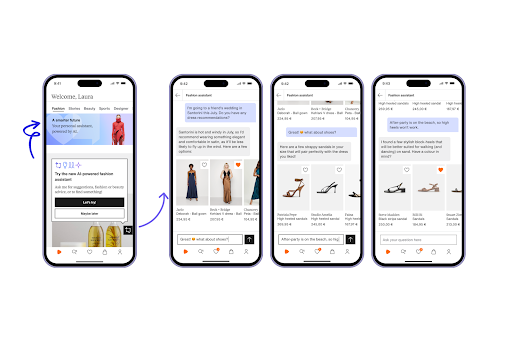 In the realm of fashion, consumers are increasingly turning to artificial intelligence for assistance in their shopping and styling endeavors. Klarna's "Future of Retail" report highlights this trend, indicating that 65% of consumers desire a more personalized shopping experience. Klarna has responded to this demand by introducing an AI-powered shopping feed that tailors recommendations according to individual preferences. Meanwhile, Google has recognized the challenge faced by 68% of online fashion shoppers who struggle to determine whether a specific item will fit them. To address this concern, Google is working on enhancing the virtual try-on experience.
While artificial intelligence in fashion is still a developing field, it has demonstrated its potential to simplify and personalize shopping and styling decisions. Despite the ongoing explorations in this technology, its positive impact on fashion choices is evident. In the following sections, we will introduce you to the top three fashion AI tools that can enhance your online shopping experience, making it more efficient and personalized.
Ideal for Seamless Shopping: Klarna's AI-powered Solutions
While Klarna is often associated with its convenient "buy now, pay later" approach, its shopping platform stands out as a practical tool for online shoppers. This platform aggregates products from various retailers, simplifying the online shopping process. Recently, Klarna has enhanced its platform by introducing an AI-powered feed, designed to cater to individual customer preferences. This upgrade is particularly significant given the platform's vast array of products and retailers, which can sometimes be overwhelming.
According to Josh van Sant, head of global consumer and product communications at Klarna, the company's goal is to bridge the subjectivity gap in shopping. Klarna aims to transform the shopping experience into an intuitive and personalized journey. The introduction of AI technology is part of Klarna's efforts to make the shopping experience unique for each user, aligning with their individual preferences. The company continues to explore innovative ways, including AI integration, to enhance its current and upcoming shopping features.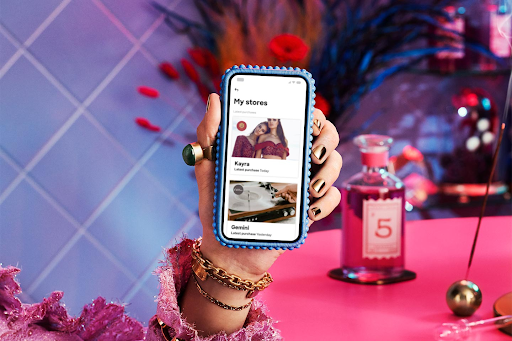 Furthermore, Klarna has collaborated with ChatGPT to introduce a new plugin. This plugin enables users to inquire about shopping-related queries via the chatbot, and it is currently available on a beta mode waitlist. Josh van Sant emphasized Klarna's commitment to staying ahead in the swiftly changing landscape of the shopping experience. He stated that Klarna remains at the forefront of adopting new technologies to revolutionize the world of shopping, ensuring its innovative products and features reshape the way people shop globally.
Perfect for Style Recommendations: GardeRobo AI
Ever since the iconic movie Clueless hit screens in 1995, fashion enthusiasts have longed for a tool that could replicate the mesmerizing wardrobe of Cher Horowitz. GardeRobo Ai has finally brought that dream to reality. This innovative styling platform powered by AI technology, demonstrates how specific products can be styled into complete looks when customers are browsing retailer websites. GardeRobo AI's plug-in allows end-users to shop the looks of their favorite creators by uploading any lifestyle photo on the retailer's websites and then get complete outfit recommendations made of retailer's items. Moreover, if the total look is not attractive to the user, he/she can simply replace the undesired piece with a new one in a few clicks.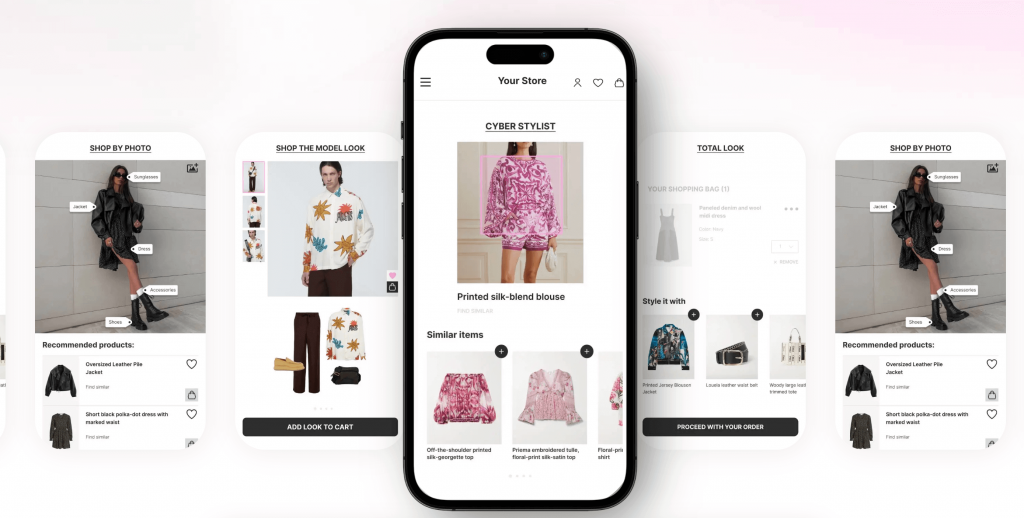 "Empowering our users to curate their perfect outfits seamlessly is at the heart of GardeRobo AI's mission. We believe that personalized recommendations tailored to individual tastes are the epitome of customization. As our platform reaches a broader audience, the significance of offering scalable and relevant outfit suggestions becomes paramount. Every customer deserves the richness of a wardrobe meticulously curated just for them, and we are committed to delivering this unparalleled level of personalization."

Lilly Menkevich, CEO of GardeRobo AI
Ideal for Virtual Fitting: 3DLOOK
3DLook's YourFit, a cutting-edge body data platform, offers a virtual try-on experience paired with precise size recommendations driven by data.
This innovative solution addresses two crucial queries online shoppers often have: Will this garment fit me? and Will it look good on me? 3DLook's YourFit stands out in the market, providing answers to these questions. This capability empowers fashion and apparel brands to deliver a personalized and superior e-commerce experience to their customers.

What sets YourFit apart is its ability to generate realistic snapshots that not only visually represent the clothing but also faithfully reproduce the shopper's measurements. This contrasts with other solutions that often use rough overlays of a garment photo on the shopper's image. 3DLook's technology ensures accuracy and realism in the virtual try-on experience.

Eager to learn more insights? Sign up for our LinkedIn page and be the first to know all the working strategies for your fashion business!